Introduction
Just like beer and rugby are God's gift to men, so is shapewear to women.  Even though we live in an age where bodies of all shapes and sizes are considered sexy, it doesn't hurt to invest in products that enhance your natural beauty.
Shapewear has become part of many women's closets. Steering away from uncomfortable wire underwear and tight under cloaks, shapewear has come a long way since its humble beginnings.
If you haven't jumped on the shapewear train, it's time you learned more about it.
Top 7 Women's Shapewear in Australia 2020
History of Shapewear
Since the dawning of time, 1,100 B.C. to be exact, women have created underwear to enhance their bodies. In Mycenaean Greece, Grecians invented girdles (today known as the corset) made from metal to wear under their robes. This gave their bosoms an enlarged appearance while narrowing their waistlines.
1500's – Early 1900's
As time went on, girdles were made from softer leather and linens to provide comfortability.  The Elizabethan era gave way to a new kind of girdle in the form of a petticoat. The petticoat was designed to enhance hips and give a much more cylindrical shape to a women's body while creating a flat torso.
During the 19th century, women had to really tighten it in to create an hourglass figure. Corsets were made from heavy canvas and strengthened even more with steel and whalebone. Women were squeezed into these torture chambers to completely alter their natural curves.
Luckily for women all over the world, the military needed their steel back during World War 2. On came comfortable camisoles, bras, panties, and teddies. Created for comfortability and to hide curves.
1925 – Today
Needless to say, throughout the 19oos and early 2000s, women have been jumping between padded bras, camisoles, bralettes, corsets, full-body girdles, and underwear in all shapes and sizes. Depending on what society wanted them to look like, women would be wearing and altering their bodies to appear in a specific shape.
Finally, it all took a turn in 2015, when body positivity became all the rage. Many women ditched the societal idea of what their body should look like and rather started to enhance their own gorgeous curves.
Then came the Kardashians and other famous curvaceous celebrities who celebrate the female figure in all its different forms. To help with body positivity and feel-good vibes, designers created comfortable shapewear that tone and shape the natural body, instead of completely deforming and twisting it. Hallelujah!
What is Shapewear?
Shapewear is specifically designed to eliminate the appearance of lumps and bumps on the skin. It is beneficial to overall body appearance, by slightly altering bust, waist, thighs, and hips. Shapewear comes in a variety of styles, sizes, and shapes and is worn underneath clothing.  It enhances the natural curves while giving a slimmer appearance.
Ultimately boosting confidence.
Shapewear can be worn on a daily basis, or only at special events when you want to look your best. Most women wear it underneath even gowns or tight-fitting clothing.
What Benefits Do Shapewear Hold?
There are loads of benefits to wearing shapewear, here is a list of the most typical benefits:
It gives the user body confidence and an ultimate boost in self-esteem
Improves abdominal muscles by creating a natural pull-back from internal organs
Through tucking in a muffin top or some extra bulge around the thighs, shapewear can help you lose inches around certain areas
Acts as a kind of trainer through innovative fabrics by promoting weight loss
Help the body through the aging process, by creating support for lower back pain, hunchback, and prolapsing bosoms
Shapewear for Different Body Types
Even though all bodies aren't really shaped the same and are unique in their own way, experts have divided women bodies into a few typical body types. Depending on your body type, you might want to consider a certain kind of shapewear.
Pear: A body type that has narrow shoulders and full thighs and hips. Consider wearing shapewear that leans the thighs and firms the bottom.
Celebrity: Jennifer Lopez, Kim Kardashian, Rihanna
Apple: A body type with a fuller middle and great legs.  Consider wearing shapewear that creates a more defined waist.
Celebrity: Melissa McCarthy, Drew Barrymore, Adele
Rectangle: An athletic built body with a balance in shoulder, waist, and hip ratio. Consider wearing shapewear that creates a more defined waist and lifts the bottom.
Celebrity: Cameron Diaz, Nicole Kidman, Gwyneth Paltrow
Hourglass: A body type with a balanced hip to bust ratio with a narrow or defined waist. Consider shapewear that trims thighs.
Celebrity: Marilyn Monroe, Dita Von Teese
Triangle: A body type with wide shoulders and narrow hips and buttocks. Consider shapewear that gives the bottom a boost.
Celebrity:  Catherine Zeta-Jones, Naomi Campbell
How to Care and Wash Your Shapewear
You'll notice that the fabric used in shapewear is much different from fabrics used in the manufacturing of bras and other underwear. Also, you'll probably pay a little bit more than you would for typical underwear. It's therefore important that you take good care of your shapewear, to extend their life as well as maintaining their effectiveness.
Here are a few tips on how you can take care of your shapewear:
Rotate shapewear in your closet and don't wear one piece over and over again
Hand wash latex shapewear gently in warm water using a mild shampoo
After hand washing make sure that you rinse extremely well
Don't leave your shapewear on the dry rack for days on end to be burned by the sun
Don't tumble dry, ever
Store shapewear in a dark area to avoid too much contact with sunrays
Non-latex shapewear can be washed in the washing machine in cold water, preferably in a lingerie washing bag
 Use a washing detergent that's free from fragrances, alcohol, bleach, and dyes
Be careful when you put them on so that they don't catch on sharp fingernails or jewelry
Never ever iron your shapewear
Best Brands in the Shapewear Industry
In the shapewear industry, there are a few brands that put a lot of extra effort into their designs. Here are the best:
Spanx
Spanx is the original creator of the new underwear phenomenon known as shapewear. With its genius, the brand has become a household name. The founder, Sara Blakely, became a self-made billionaire after she accidentally discovered Spanx. One night she was off to a party wearing a white dress, she soon discovered that she didn't have any underwear that was befitting. With a pair of scissors, she cut up her sheer pantihose and created an undergarment that jolted the Spanx company into action.
The mission of Spanx is to help women feel great about themselves while wearing comfortable and form controlling underwear. Spanx manufactures a variety of bras, panties, pants, and shapewear.
Maidenform
Maidenform is a great underwear brand that caters from petite to curvy and plus size. They have a wide range of bras, panties, and shapewear in a variety of shades and styles.
The company started in 1922 and focused their expertise on bras and panties. With the revolution of shapewear, they quickly jumped on the train. Designing underwear that compliments personal fashion style and body shape.
All their products are designed to enhance natural body shapes to define the body rather than reshaping it.
Wolford
Wolford is an Austrian company founded in 1950. They manufacture a variety of high-quality textiles that are used in their many creations. Wolford's main products include hosiery, leggings, bodysuits, lingerie, beachwear, and recently shape and control wear.
The high-class company provides shapewear to more than 260 retail stores across 60 countries. Their products have a signature seamless design which is perfect for women who dislike visible pantie, bra, or shapewear lines.
Other brands that are also doing well in the underwear industry are Bali,  Honeylove, and Commando.
Key Factors to Consider When Buying Shapewear
Even though there is a lot of technology and design that goes into creating shapewear, there isn't too much to consider when buying it. The following four factors are extremely important to check into before you swipe your bank card:
Size and Fit
Make sure you get the right fitted shapewear for your body type. Choosing something way too small because you think it will keep everything in a better place, is not the best idea. Continuously wearing shapewear that's a few sizes too small can have a negative impact on your health. Be mindful and thorough when you pick your size.
Buying one size too small won't help you fit into a smaller sized outfit. Rather find shapewear that's perfect for your body type and size. Measure your waist and hips to make sure you pick the right size. Most brands have size charts that you can follow.
With the body positivity movement racing into full gear, manufacturers are producing underwear for all sized women. Now, you can put on undergarments that are form-fitting, comfortable, and create a smoother look.
Type and Style
You won't be able to wear one kind of shapewear under all kinds of garments. There's a wide variety of styles available. Depending on your outfit, you'll opt for a style that works best underneath.
There are six main types of shapewear:
Camisole
A camisole is designed to slim the torso. Usually worn underneath a silky or soft fabric top. It helps to flatten your tummy and smooth your upper body. It can be worn without a bra.
Slip
Perfect for little black dress occasions. The slip is designed to streamline the waist and singe in the hips. The full slip comes with shoulder straps that hold the shapewear in place. Because the slip doesn't come with cups, you can wear a bra with it for extra support.
Half Slip
With the same function as the slip, the half slip comes without shoulder straps. It targets the bottom half of the body. Perfect to wear underneath pencil skirts or tight high-waisted long skirts.
Body Suit
The bodysuit is perfect to wear underneath one-piece catsuits or jumpers.  It's a comfortable full-body control suit that shapes thighs, tummy, and waist. It doesn't have built-in cups so you can wear your own bra with it.
Thigh Slimmer
Similar to the shape of bike shorts, the thigh slimmers are high-waisted shorts. It is designed to smooth out any lumps or bumps on your bottom and even lift the but cheeks. It can be worn underneath flowy pants, dresses, or jeans.
The thigh slimmer is the most popular kind of shapewear as it's made in a variety of lengths and sizes.
High Waist Brief
Also referred to as the underwear 'tummy tuck', the high waist brief cinches the waist and comfortably holds the tummy. It can also give your derriere a bit of a lift.
If you don't own any shapewear yet, the thigh slimmer or high-waist brief is a good starting point.
Control and Construction
Even if modern shapewear is designed for ultimate comfort, you can still choose the strength control of it. Depending on what you want your shapewear to do for your body you can choose between light, firm, and extra-firm construction.
Light- For those who want some control, but still seek comfort. The lighter construction smooths the body without extreme reshaping.
Firm- Firm control is the most popular choice for many women. The shapewear isn't constricting but it still shows great results. This level of control usually targets specific problem areas while having a more relaxed fit around others.
Extra Firm- Perfect for women who want to feel their shapewear working hard. They are designed to re-sculpt and reshape the body. Regardless of their slimming results, they can be extremely uncomfortable.
Have a look at the fabric used in the manufacturing of the product. Spandex and Nylon are the most popular materials used to create shapewear. Cotton and microfibers are also used to help absorb moisture and control odor.
Colour
Shapewear typically comes in 3 main colours – Nude, Black, and White. Brands have introduced new colours that accommodate all skin colours. As long as you wear a colour that doesn't shine through your garment or that blends in with your own skin colour, you'll be fine.
Starting with a nude/skin colour and investing in a few other colours later is advised.
Best Aussie Reviews for Women's Shapewear 2020
To help you pick out the best shapewear on the market in Australia. Here are our top picks:
Flexees Maidenform Brief
Overview: Maidenform is known for creating quality shapewear. The Flexees high-waist brief provides the ultimate firm tummy control. The design secretly shapes, smooths, and slims the tummy and hips. With extra butt-lifting action.
A silicone elastic waistband prevents the brief from rolling down. Flexees from Maidenform are also available in firm and light control boy shorts. That can be worn underneath casual clothing and active wear.
Cost: $30-$79
Type: High-waist Brief
Available Sizes: Small – XX-Large
Control: Firm Control
Available Colors: Black, White, Nude
CHECK LATEST PRICES ON AMAZON AU
Spanx Slimplicity Full Slip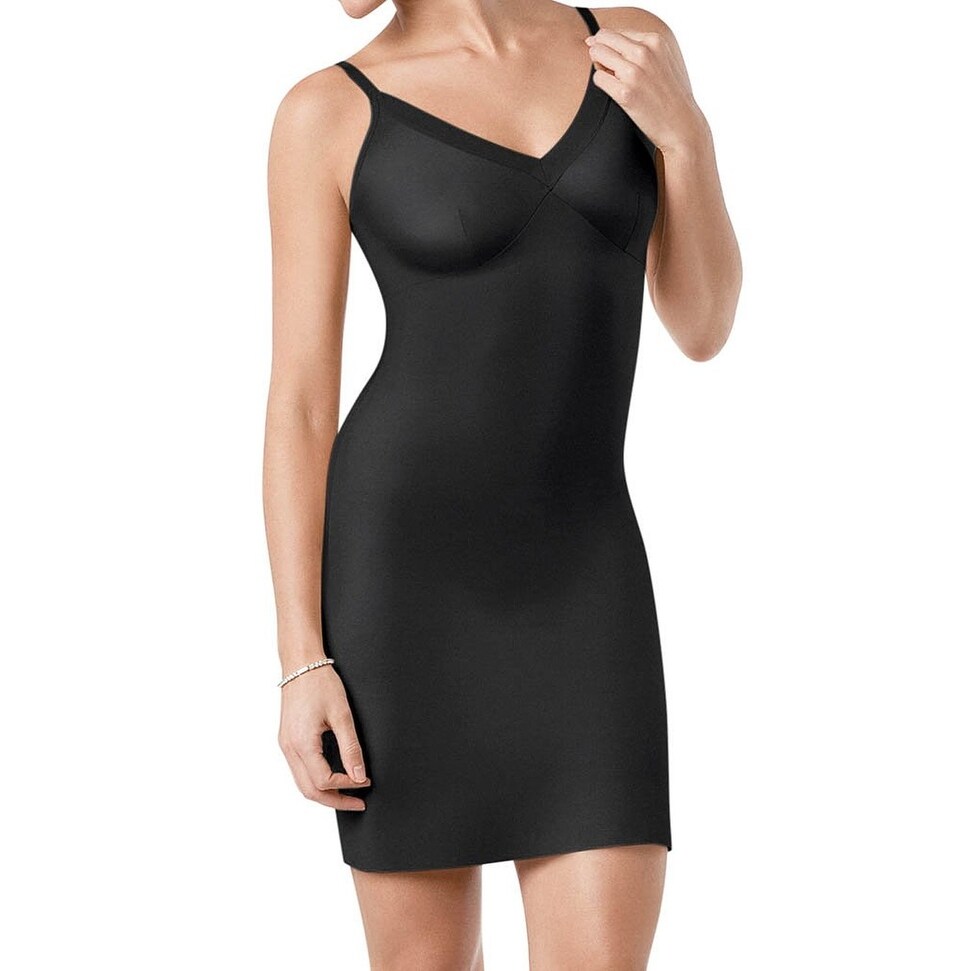 Overview: Spanx created the Slimplicity full slip that's perfect underneath a knee-length dress. The great thing about this slip is that it has added cups with padding, which allows you to go braless.
The Spanx full slip is made from a soft fabric with a combination of 76% nylon and 24% spandex. It creates a single-layer compression that firms love handles and tummy while slimming the thighs.
The straps are adjustable and soft on the skin. The extra firm control slip weighs only 454 grams. Together with the soft fabric, it allows for a comfortable and luxurious wear.
Cost: $130
Type: Full slip
Available Sizes: Small – X Large 
Control: Extra Firm Control
Available Colors: Nude and Black
CHECK LATEST PRICES ON AMAZON AU
Vassarette Smooth Slip
Overview: The Vassarette slip and smooth thigh slimmer is extremely comfortable shapewear. Designed to have no visible lines as well as provide light wear. It features the smooth look of a slip with the benefit of it actually being shorts.
It's an affordable piece of shapewear that's perfect for everyday use. The construction allows for optimum comfort without squeezing the body.
Cost: $13-$24
Type: Thigh slimmer
Available Sizes: Small – XXX-Large
Control: Light control
Available Colors: Black, White, Nude, Navy, and Grey
CHECK LATEST PRICES ON AMAZON AU
Bali Women's Lace 'n' Smooth Bodybriefer
Overview: The Bali Women's firm control Lace 'n' smooth body briefer is a seamless full slip with added cups. Made from lycra smooth lace to provide comfort and breathability.
The softly lined seamless cups provide extra support and coverage.  The firm control construction provides an all-over solution to shape and smooth curves.
The body briefer design is also available as a camisole and high-waist briefs.
Cost: $34-$114
Type: Full slip body briefer
Available Sizes: 34B-40DD
Control: Firm Control
Available Colors: White and Black

CHECK LATEST PRICES ON AMAZON AU
Wolford Bahamas Bodysuit
Overview: There's no doubt that Wolford is a luxury brand that creates top market products. The Bahamas bodysuit is a classy piece of shapewear that has slim banding around the neckline and short sleeves.
The bodysuit is extremely lightweight and breathable, perfect for summer looks. Wolford manufactures its own fabric and they made no exception in creating this soft and seamless bodysuit. It is made from 48% polyamide, 46% cotton, and 6% elastane.
Perfect to wear underneath a long-sleeved blouse or tight-fitting top.
Cost: $375
Type: Bodysuit
Available Sizes: Small – Large
Control: Firm Control
Available Colors: Black and Nude
CHECK LATEST PRICES ON AMAZON AU
ShaperQueen 1010 Girdle
Overview: The ShaperQueen 1010 is an extra firm control waist cincher. Great for women who want to re-train their tummy muscles after pregnancy. Featuring 3 hooks and eye columns, that allow the wearer a loose to an extremely tight fit.
A unique boning system prevents the high waisted shapewear to roll down. Going to the lady's room is much easier in the ShaperQueen 1010 as it features a 3 hook opening at the bottom of the garment.
The overall design helps to smooth and slim the tummy and waistline. Furthermore, it improves posture provides relieve from back pain. You can wear it underneath casual tops or formal dresses and gowns.
Cost: $58
Type: Girdle
Available Sizes: X Small – 4X-Large
Control: Extra Firm Control
Available Colors: Brown, Nude, Black, and White
CHECK LATEST PRICES ON AMAZON AU
Robert Matthew Brilliance
Overview: Robert Matthew's high-waisted thigh slimming shorts, was voted 2018's must-have accessory – and we couldn't agree more. Made from comfortable lightweight and breathable material including spandex and nylon.
The design features light boning that allows it to not roll down while being the perfect tummy control solution. You will feel fantastically good in these shorts as they are extremely comfortable while slimming your legs, waist, thighs, and buttocks.
Robert Matthew's Brilliance range offers lightweight fabric, toning, smoothing, bump control, contour silhouette shaping, and maximum compression known as the tight bear hug.
Wear it underneath jeans, leggings, skirts, and tights in any season for ultimate sculpting.
Cost: $38
Type: Thigh Slimmer
Available Sizes: X Small – XX-Large
Control: Super Firm Control
Available Colors: Black and Nude
CHECK LATEST PRICES ON AMAZON AU
Conclusion
Investing in shapewear will only enhance your natural body type. By smoothing out some unwanted bumps and lumps. No need to squeeze yourself into a steel corset or metal girdle any more. You can put on underwear that goes along with your own body type, instead of altering your existing body to fit into a societal norm.
When you look at all the above-mentioned factors you'll be able to track down the perfect shapewear fit for your body type and size.  Whether you decide to wear light control or extra firm control, there's a design for every occasion. Shapewear that will make you feel comfortable while enhancing your natural body shape.