Introduction to CrossFit Shoes
Owning a decent pair of CrossFit shoes are vital to your athletic performance and physical well-being.  The wrong shoe can affect many aspects of your exercise routine. Either it will leave you with blisters or it will buckle under pressure and cause injury, especially in Australia where the elements have a tendency to get the better of you! If you are someone who CrossFit regularly, it's important that you invest in a supportive, well-designed CrossFit shoe.
Other than clothing, your shoe size remains the same after you're fully grown. A decent pair of supportive shoes is a long-term investment that will make you feel great while exercising.  When you purchase a pair from our Best CrossFit Shoe recommendation list, you will enhance your physical performance and invest in your physical well-being.
In this buyer's guide, I will list the best CrossFit shoes available in Australia. We will look at each pair's performance level and the specific key features that are embedded in the design.
Top Crossfit Shoes For Men & Women
What Are CrossFit Shoes?
CrossFit is a high-intensity exercise routine that incorporates cardio, weight-training and calisthenics. CrossFit is extremely tough on your body. CrossFitters are expected to perform vigorous exercises 3-6 times per week. Movements include box jumps/step ups, lifting heavy barbells, rope climbs (which can easily destroy shoes not designed for these), squatting, gymnastics and running/sprinting.
A shoe that is specifically designed for CrossFit provides the wearer with all around support. A CrossFit shoe is made to endure all different kinds of CrossFit movements.  There are many different needs that the shoe design fulfills to give the wearer maximum support while they perform rigorous CrossFit movements.
Do You Really Need Shoes Specifically For CrossFit?
Yes. You do, especially if you've been doing CrossFit for a few months. You will realize that normal trainers aren't providing you with the support you need. CrossFit shoes are usually more protective than normal trainers. They tend to be a bit sturdier and more durable to provide stability and support.
Some CrossFit shoes have unique carbon rubber designs that provide traction for an ultimate grip during rope climbs. Other designs provide a 'lock in place' sole that gives your foot a stable grip to avoid blisters.  The zero-drag technology that's built into a CrossFit shoe's heel, helps the wearer perform handstand pushups.
A running shoe is designed to endure continuous pressure on the sole while jogging at an average speed. Whereas CrossFit shoes need to support the athlete in their quick movements that change rapidly in pressure and speed.
Imagine lifting a heavy barbell on a mattress, that's what it will be like if you wear a soft and unsupportive trainer while doing CrossFit. A CrossFit shoe will keep you stable while you lift heavy weights and it won't be restrictive when you sprint or do pushups.
As a keen CrossFitter myself I do understand the value of a decent CrossFit shoe. Once I purchased my shoe of choice, I immediately felt a difference during my workouts. I will never go back to CrossFit training in a low-budget jogging shoe.
CrossFit Shoes Key Features To Look Out For
There are a variety of different demands that CrossFit shoes have to meet. Consider the following key features in a CrossFit shoe before purchasing.
Comfortability
You need a CrossFit shoe that fits you perfectly. A well-designed CrossFit shoe will hug your foot and support it while you work out. Your foot needs to be stable inside the shoe without moving and shifting around while doing short spurts of movements. It's also important that it doesn't hug your foot too tight.
A short break-in period will be required in order for your CrossFit shoe to follow the shape of your foot. Wearing a CrossFit shoe that provides you with much-needed support will avoid the possible occurrence of ankle rolls and other ankle injuries.
Durability
This is a no-brainer. Because CrossFit is such a vigorous sport you need a shoe that can stand all the stretching, running and lifting. Especially if you spend a few hundred dollars on it, it's important that you consider whether the shoe will fall apart after the first rope climbing exercise.
Flexibility
While being supportive and stable, it should also be flexible. Moving and shifting with your foot while you do sprints, rope climbs, and weight lifting. This gives you much-needed balance as you move through each different movement, which is also extremely important.
Shoe Weight
CrossFit shoes shouldn't be too heavy or too light. It will be really difficult doing a few high box jumps with extra bags of potatoes on your feet. Considering the weight, you also need enough to support you while you do weight lifting.
Considering what kind of exercises you do more frequently while you are at a CrossFit training, you can decide whether you want more support for weight-lifting or high-intensity cardio.
Heel-to-toe drop
A CrossFit shoe won't have a too high heel-to-toe drop (for runners) or a too low heel-to-toe drop (for weight lifters). The shoe is designed somewhere in the middle to support both weight lifting and running.
If you are experiencing any knee, ankle, foot, or hip pain then chances are you need to invest in a decent pair of CrossFit trainers. Without any further ado, here are my top CrossFit shoe recommendations and reviews.
Best CrossFit Shoe Brands
There is a surprisingly huge difference in buying a branded CrossFit shoe and buying a non-brand CrossFit shoe. Certain shoe brands specialize in perfecting trainers for different kinds of sports. A trainer cheaply manufactured in China won't give you the needed support that a well-designed famous brand shoe will.
Brands who specialize in athletic gear are your best bet when it comes to quality and longevity. These brands have spent millions of dollars and loads of time on developing technology to create the perfect shoe for CrossFit. Best brands for CrossFit shoes are Reebok, NOBULL, Nike (especially Nike Metcon), and Vibram.
In this review list, I have added other brands like Asics and Adidas who are also great sports gear brands who have perfected the running and jogging shoe. Even though they do have shoes for CrossFit their options are limited as they do focus more on manufacturing and designing shoes for other sports types.
The Best CrossFit Shoes Australia Reviews
There are a variety of CrossFit shoes available for both men and women. Only a few brands provide customers with a unisex option. For your convenience, I already divided them up into groups.
FOR MEN
Nike Metcon 2 Men's Cross-Training Shoes
Overview: Nike's Metcon DSX Flyknit for men has a breezy upper knitted mesh exterior. This design contains Flywire technology which provides your feet with ultimate lock-in-place support – no slipping or sliding inside the shoe. The Flywire cables, which are smart replacements for tangling shoelaces, are easily adjustable during a workout.
The heel has a built-in reinforcement that reduces friction. A rubber wrap is placed around the sole and stretches up to the midfoot. This cleverly placed rubber provides strength to the midfoot as well as gives extra grip to the forefoot.
Nike just can't do anything wrong. This shoe is a perfect combination of style and CrossFit support.
Color Options: White, Black, Racer Blue, Orange, and Dark Grey
Made In: Vietnam
Price: From $110
Weight: 1 kg
Key Features: Heel-to-toe drop of 6mm, Flywire technology, Breathable Mesh upper, Excellent grip and traction
Best For: Men with a wide foot. The trainer is designed a little bit wider than other usual Nike shoes.
Reebok Men's Nano 9 Cross Trainer
Overview:: Known as the shoe that can do it all. The Nano 9.0 is an excellent shoe for any man who wants to invest in a long-lasting, durable CrossFit trainer. The outer is made from a synthetic mesh that creates a breathable inner.
The low heel-to-toe drop provides a stable and balanced weight lifting and squatting experience. Even more foot and ankle support are provided by the rubber sole that stretches around the midfoot and lower ankle. The clever design provides prevention against ankle rolls and other foot injuries.
The shoe can be securely fastened with lace-ups that can be hidden under a rubber outline. The rubber outline around the shoe's top provides extra durability which makes it extra long-lasting.
The Reebok Nano 9.0 provides a snug and comfortable sit for constant high-pressure and high-intensity exercises.
Color Options: White, Red, Navy, and Black
Made In: USA
Price: Start from $80
Weight: 340 gram
Key Features: Heel-to-toe drop of 4mm, Rope protection, Tight and Comfortable fit, Extremely durable.
Best For: Men who do rigorous training and want to invest in a shoe that's durable, stable and long-lasting.
Vibram Men's KSO EVO


Overview: This odd-looking toe and foot shoe is designed to hug every part of your foot for ultimate support. The Vibram KSO gives the impression that your toes are separate beings each with their own compartment to rest in. Focused on creating a feeling of being barefoot with the added benefit of having an extra 5mm rubber layer to your sole and foot edges.
Also known as the Vibram FiveFingers the glove design provides maximum flexibility and grip. Weighing only 340 grams the shoe feels like an extra layer of protective skin, rather than a hefty trainer. It has a speed lacing system that makes it easy to put on while preventing a fatal accident by tripping over loose laces. There's no doubt that the appearance of this dinosaur shoe isn't everyone's cup of tea. Then again its function isn't to look pretty.
The only question remains – do you have to wear toe socks with this shoe? or do you wear it without any socks?
Color Options: Red, Black, and Grey
Made In: Brazil, Italy, Czech Republic, USA, and China
Price: From $105
Weight: 340 gram
Key Features: No heel-to-toe drop, XS Trek Outsole, Washing Machine safe, Speed lacing system, Breathable Polyester
Best For: Any athlete who wants some extra grip or wants to try out a different kind of shoe shape.
Aleader Men's Cross Trainer Shoe
Overview: Aleader is a brand popularly associated with outdoor water shoes, but they do dabble in a few other products as well. One of these products is a much more affordable entry-level CrossFit trainer shoe. The open mesh fabric that stretches around the upper and hole of the sole provides extreme breathability.
The cushioned lining creates a bounce-back whilst the lightweight Solyte midsole provides moveability.  Fasten the shoe tightly to your foot with the 5-claw lace-up system. The best thing about these shoes, besides the price, is that they are weatherproof. Aleader specialized in quick drying technologies giving you the ultimate water drainage and dry shoe experience.
Not a shoe that will last you a lifetime but perfect for entry-level workouts and even a night out.
Color Options: Black, White, and Grey
Made In: USA
Price: From $61
Weight: 920 grams
Key Features: Breathable mesh upper, Claw lacing system, Durable rubber sole, Cushioned interior, Water drainage and quick drying.
Best For:  Entry-level CrossFitters who don't want to spend too much on their first CrossFit shoes.
Adidas Men's Powerlift 3.1 Crossfit Shoe
Overview:  Although the Adidas Men's Powerlift 3.1 has been originally developed for weightlifters it has become quite popular amongst CrossFitters. The thick synthetic and leather support around the ankle of the shoe provides extra support for men who does heavy weightlifting through CrossFit.
The sturdy design doesn't compromise breathability as the mesh fabric situated around the collar, lining, and tongue of the shoe provides a fresh airflow.  The high rise sole and strap aren't there for beauty reasons, it gives extra support to weightlifters.

There's no doubt that Adidas creates some of the best sports gear in the world and this shoe is one of them. Although it's not as flexible as other CrossFit shoes it serves its purpose of being a support to heavy weightlifting.

Color Options: White and Black
Made In: USA, EMEA, and Asia
Price: From $170
Weight:  340 grams
Key Features: Flexible toe area, Supportive and secure velcro strap, Slanted synthetic sole, Mesh shoe tongue and collar
Best For: Men who wants to focus on heavy weight lifting
FOR WOMEN
Reebok CrossFit Nano 6.0 Cross-Trainer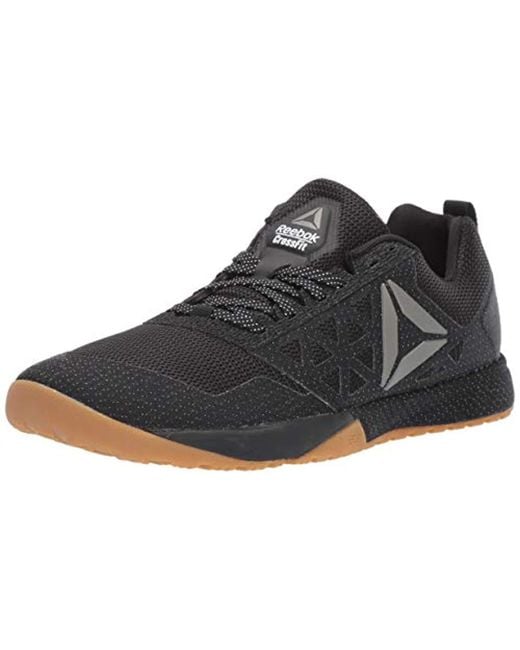 Overview: The Reebok Women's Crossfit Nano 6.0 isn't as pleasant on the eye as it sits on the foot. Reebok is CrossFit's official sponsor and this makes them an expert on the area of CrossFit shoes.
This specific design has Kevlar technology upper material to ensure durability. The shoe combines a breathable mesh and the Kevlar exterior for maximum comfortability.
The inseam has a Ropepro textured grip that provides the Crossfitter with a perfect grip while rope climbing. The Flex grooves provide extreme flexibility. Not only does it provide grip, flexibility, and comfort it also provides support for weight lifting.
The shoe has a Tri-Blend FoamFusion technology in the midsole that provides a great anatomical shaped fit. The strong sole structure gives you stability when deep squatting or heavy lifting.
Another option in the same series is the Reebok Crossfit Nano 8.0.
Color Options: Black and Gum
Made In: USA
Price: From $144
Weight: 420 gram
Key Features: Heel-to-toe drop of 4mm, Rope Protection, Tri-blend Foam fusion, Stability

Best For: Intense CrossFitters who need extra grip support while rope climbing and heavy lifting.
NOBULL Trainer for Women
Overview: NOBULL has been christened as one of the best CrossFit trainers of its generation. The NOBULL trainer has the appearance of a sleek sneaker with the added benefit of being an extremely well-designed CrossFit shoe.  The lightweight, breathable and stretchable protection moves along with your feet.
NOBULL prides itself on its SuperFabric technology. The upper side of the shoe is made out of one seamless piece of SuperFabric that's durable, abrasion-resistant, and breezy.  This SuperFabric gives you the freedom to move from scorching hot weather into cold and wet weather without compromising the shoe's durability.
The lateral guard is made from high carbon for ultimate ankle and foot protection. The special flat heel design also provides support and stability during squatting and weight lifting. Extremely comfortable for long walks and high-intensity training sessions.
Color Options: Camo, Black, Grey, Red, White, and Purple
Made In: USA
Price: From $210
Weight: 320 grams
Key Features: Heel-to-toe drop is 4mm, Lightweight, Breathable, Seamless Stretchable SuperFabric, Durable
Best For: An all-rounded athlete who enjoys doing high-intensity workouts inside and outside
Puma Women's Tazon 6 Cross-Training Shoe
Overview:The Puma Tazon is an affordable Crossfit trainer designed to support athletes both in and out of the gym. It's made from 100% Synthetic leather combined with a rubber sole. The breathable holes on the upper and side panels of the shoe create a breezy quick drying experience.
The lifted midfoot saddle creates ultimate support and comfort. The sole is wider set to create stability for weightlifting and quick side to side movements. Even though they appear to be bulky, they are extremely lightweight – weighing only 278 grams. Reviewers have praised them for being extremely comfortable and stylish. Great to wear indoors and outdoors.
Color Options: White, Silver, Purple, and Black
Made In: Vietnam and China
Price: From $64
Weight:  278 grams
Key Features: Wide sole, Extremely lightweight and supportive,
Best For: Women who want a low-budget but supportive shoe that is mainly for weightlifting
Asics Women's GEL-Fit Tempo 2 Shoe
Overview: The colorful design of the Asics Gel-fit Tempo 2 will not only make you stand out during your gym session, but it will also provide you with everything an all-rounded CrossFit shoe should. Perfectly designed for low and high-impact workouts. For extra ankle support, Asics designed a mid-cut.
The mesh upper creates fresh breathability while the synthetic overlay creates extra durability. An overall comfortable fit with hidden lace eyelets to prevent you from tripping over loose laces. The insole is easily removable and washable. It has extra rubber patches for ultimate lock and hold foot placing.
For any runner, the special cushioning embedded in the midsole and heel area are great for shock absorption. This shoe is promoted as being fit for high-intensity workouts like CrossFit, but is also great for long-distance running.
Color Options: Grape purple, Mint, White, and Black
Made In: Vietnam, Indonesia, and China
Price: From $156
Weight:  150 grams
Key Features: Removable insole, Gel Cushioning system, Extremely lightweight, Lace-up with hidden eyelets
Best For: CrossFitters who enjoy cardio over weightlifting.
Final Words
Through my own experience, I've realized that investing in a well-designed CrossFit shoe is essential for maximum performance. Through the above buyer's guideline, I hope that you will consider the specific commands a decent CrossFit shoe will adhere to.
When you invest in a specifically designed CrossFit shoe, your whole body will be more supported. In return, they will play a key role in preventing serious injuries and supporting you throughout high-intensity workouts.
It's important to mention that CrossFit shoes won't double as the perfect jogging trainer. As mentioned above, they are specifically designed to provide maximum support with cross-training exercises and workouts.
The best CrossFit shoe is the one that incorporates flexibility, stability, comfort, durability, and support. Most Crossfit shoes that I've reviewed in this buyer's guide do meet up to all those standards. Some brands have developed special technology to improve their CrossFit shoe's performance and any CrossFitter will thank them for the effort.
Other fitness equipment reviews you may be interested in:
Best Elliptical Cross Trainer
Best Rowing Machine