Best Stick Vacuum Cleaner Australia
If you have decided that a stick vacuum would be a great addition to your cleaning arsenal then you may be wondering how to choose the best model for your needs. Stick vacuums can be corded or cordless and with many other features to consider before buying, choosing the best stick vacuum cleaner Australia has to offer can be a tricky decision.
In this guide we will be helping you to choose the best model for both your needs and budget. In our in-depth buyers guide you will find all the information you need to know before buying a stick vacuum cleaner. Furthermore, our review section features the best models available in 2018.
Lets take a look!
Top 5 Stick Vacuum Comparison Table
For those in a hurry you can compare stick vacuums in our comparison table with all the models from our review section.
Best Stick Vacuum Australia Buyers Guide
As mentioned already, choosing the best stick vacuum can be a daunting task. Due to stick vacuums being constantly improved, there is almost always something new to look out for when the newest models are released. Taking a little time to read our buyers guide will go a long way in helping you to decide which is the best stick vacuum cleaner for your needs.
How Much Do I Need To Spend?
For most people this is the most important consideration when buying. Determining your budget will help to narrow down the search enough for you to not get overwhelmed by the amount of models available, there are a lot to choose from!
Cheap Stick Vacuum – a cheap model can be bought for under $100 and as you may of already guessed it will be fairly limited where it matters most. Most notably, suction will not be great, battery life will be short and recharge time will be very long. One exception in this price range is the Bissell Featherweight Stick Vacuum which offers good value for money.
Budget Stick Vacuum – again these are by no means great for suction' however, they are suitable for light cleaning duties and can be classed as costing under $300. There are a couple of models that can be said to have some quality about them. The most noteworthy is the Proscenic P9 Cordless Vacuum Cleaner which is probably the best budget stick vacuum cleaner. Due to it being a 2 in 1 stick vacuum it is very versatile around the home.
Mid-Range – this is a good price bracket to be in and if your budget can stretch to $500 then you can expect to get a very good quality model with good features and specifications. In addition suction will be good as will be both battery length and recharge time.
Top Of The Range – top rated stick vacuum cleaners cost between $500 and $1000 and for this price buyers get a model that offers excellent suction a long battery life and a short recharge time. At the time of writing the Dyson V10 Absolute+ is considered to be the best rated stick vacuum.
Different Types Of Stick Vacuum Cleaners
When buying you will notice that stick vacuum cleaners aren't all the same in terms of looks. That is because there are two different types of stick vacuum cleaner to choose from.
Standard Model Stick Vacuum – this type of stick vacuum looks similar to a traditional upright vacuum. The main difference is that they are much lighter and more versatile. Due to their thinner design they can get in to those places that an upright vacuum cleaner can't. They can be either corded or cordless, with corded versions offering more power and cordless better manoeuverability.
2 in 1 (Stick and Handheld) – this type of stick vacuum offers great versatility as it is both a stick vacuum and a handheld vacuum cleaner. With the switch of a button the handheld vacuum detaches from the rest of the stick and can be used for cleaning stairs, skirting boards, inside the car and for many more things.
This type of stick model is typically a lot thinner than a standard stick vacuum and they also tend to cost more. With that been said there are a handful of good quality affordable options to choose from.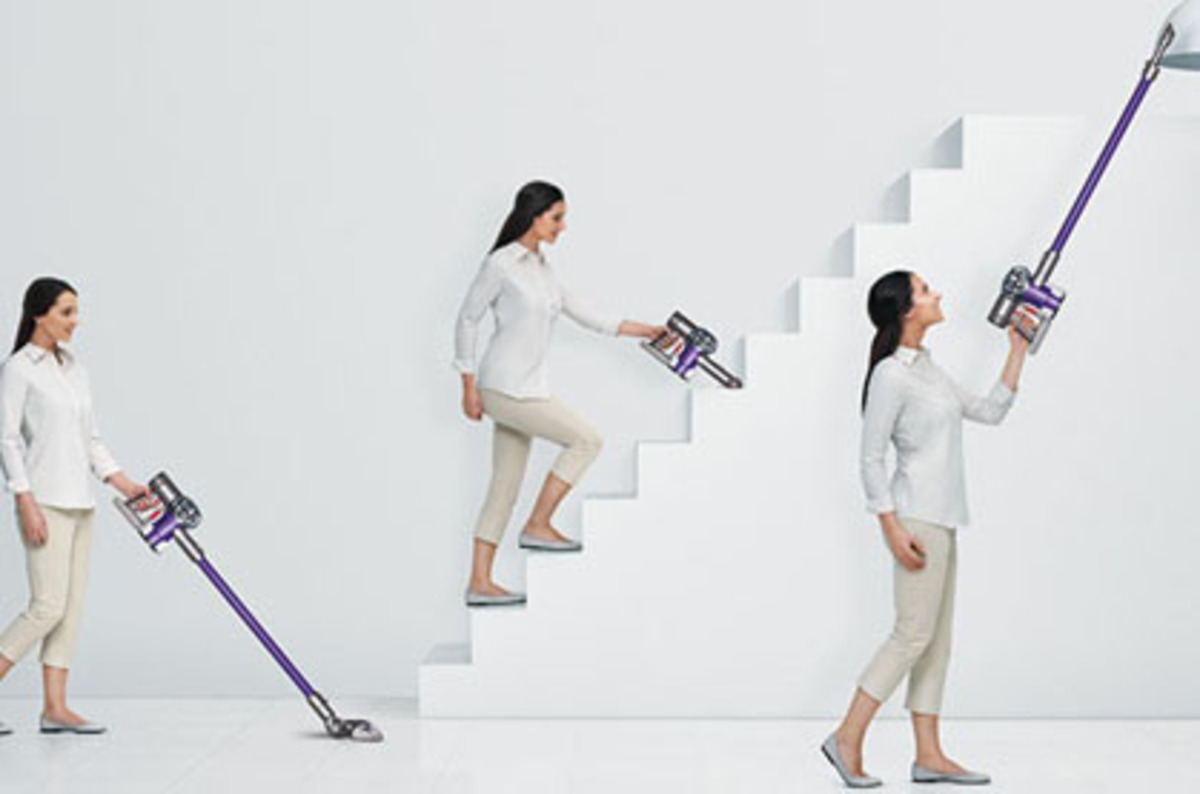 Cordless Or Corded
When buying a stick vacuum there is the choice of both corded and cordless models. The benefits of the best cordless stick vacuum cleaners are the fact you don't have to keep changing plug socket and there is no risk of anything getting tangled in the cord.
Corded stick vacuums have the benefit of more power and therefore more suction. With that been said, the top rated cordless vacuums are comparable in terms of suction, these tend to be quite expensive though.
Battery Life
The battery life is an important purchasing consideration as it can vary in length depending on the brand and model. Generally speaking the average battery length is around 30 to 40 minutes. This can be less if your chosen model has a high suction setting which requires more power. The best models have a battery life of 60 minutes and are easily capable of cleaning a large home.
Recharge Time
Similar to battery life the recharge time also varies depending on the brand and model. The best models take about 3.5 hours to recharge and may feature a quick-charge. This allows you to gain another 5 minutes battery time if needed.
Suction/Power
The suction on a stick vacuum cleaner has always been a hot topic for debate. There was a time when they had limited suction and were not capable of cleaning a home to the same standards as an upright or barrel vacuum cleaner. It is still true that the cheap models do still have very limited suction, however, the best rated stick vacuums can now match uprights and barrel vacuum cleaners in terms of suction and power.
It is worth mentioning that a corded stick vacuum will have more power than a cordless model.
Weight
One advantage to stick vacuums is that they are very lightweight, especially when compared to an upright or barrel vacuum cleaner. Typically a good model will weigh around 3 Kg, although there are even lighter ones available.
Stick Vacuum Reviews Australia
Now that we have explained all you need to know before buying, its time to take a look at our stick vacuum reviews Australia! In our reviews you will find something for all budgets as we have included the best models at varied prices.
When it comes to stick vacuums there is one brand that consistently produces the best stick vacuums and that is Dyson. The new Dyson V10 Animal is the first stick vacuum cleaner that can be said to be able to fully replace an upright vacuum cleaner. Stick vacuums have long been considered an addition to an upright vacuum cleaner due to their limited suction, however, the Dyson V10 has broken the mould and taken over the Dyson V8 as the new best Dyson stick vacuum.
Offering the most powerful suction of any stick vacuum and with a 40% bigger dust canister the Dyson V10 is the perfect stick vacuum for giving a deep clean throughout the home. Weighing 2.5 Kg it is extremely lightweight and eliminates any heavy lifting associated with upright vacuums.
With a long battery life of 1 hour and a relatively short 3.5 hour recharge time, Dyson have made improvements in this area when compared to older models.
In terms of attachments there are 2 cleaner heads and 6 tools each with their own specific cleaning purpose.
If your budget can accommodate the price tag of the Dyson V10 Animal I would highly recommend buying it. With excellent suction, good battery life and a short recharge time and the fact it can convert into a handheld in one switch of a button making it very versatile, it is without doubt the best stick vacuum cleaner Australia has to offer.
Check Latest Prices On Amazon AU
The Dyson V8 stick vacuum has been around for a while now and it still manages to rank very high in stick vacuum cleaner reviews. This is due to the great design and overall quality that puts most other models to shame. With outstanding reviews from previous buyers this vacuum comes with excellent feedback.
In total it offers 40 minutes of suction or 25 minutes when the motorised floor tool is attached. Powered by the Dyson digital motor V8 there is very good suction and it even does a very good job with tackling pet hair. For those with allergies the HEPA filter captures allergens and unbelievably expels air cleaner than the air we breath.
In terms of recharge time is takes 4 hours to fully recharge. One feature we really like is the direct-drive cleaner head which is very effective deep cleaning and removing dirt.
For those that haven't already noticed this is a 2 in 1 model and the detachable handheld vacuum is one of the best out of all stick vacuums.
Proven to be a good buy and topping many polls as the best cordless stick vacuum cleaner this is another very good model by Dyson and definitely worth taking a look at.
Check Latest Prices On Amazon AU
In recent years Bissell have built a very good reputation for their range of vacuum cleaners. Some of their upright models are considered among the best to buy and their stick vacuum cleaners are just as good. One thing i really like about Bissell is the high quality and affordability of their vacuums. In addition they rarely receive a bad customer review, which is a good indicator of how good they actually are.
The BissellBolt Stick Vacuum is a prime example of the brands quality and with 50 minutes of battery life it offers  more cleaning time than some other more expensive models.
It also comes with a built-in handheld hoover for convenience and versatility. In addition the attachments it comes with make it suitable for all floor types.
For those hard to reach areas such as under tables the Bissell Bolt features a two-way folding handle. This makes it far easier to clean under furniture and also eliminates bending down, good for those with a back pain.
For a budget stick vacuum the Bissell Bolt has a lot to offer, with good features and specifications it comes recommended as one of the best budget stick vacuum cleaners.
Check Latest Prices On Amazon AU
Black and Decker are another brand worth checking out if you are looking for a top quality stick vacuum. With a very good reputation, their vacuum cleaners are favoured by many for their good suction and battery life.
In total the Black & Decker 2 in 1 Multipower comes with a very impressive battery life of 60 minutes. This is on par with the best models on the market and a battery life this long is not something you usually get with a budget stick vacuum cleaner.
Suitable for both carpets and hard floors this is a very versatile machine. In addition it is again a 2 in 1 model and comes with a very good handheld vacuum cleaner. Black + Decker make some of the best handheld vacuum cleaners making this a good value for money stick vacuum.
Due to this model been designed for pet hair is has very good suction power and it could be said to be the best stick vacuum for pet hair for those on a budget.
Offering good versatility and great value for money, the Black + Decker Multipower Pet Vacuum Cleaner is a good choice for those not looking to spend too much.
Check Latest Prices On Amazon AU
If you don't fancy paying Dyson prices for a stick vacuum, then the Prosgenic P9 Stick Vacuum is a good cheap alternative. It won't fully replace your upright vacuum cleaner like the Dyson V10, but it will make a great addition to your cleaning arsenal.
Surprisingly, the Prosgenic P9 has a powerful motor that provides good suction power for a total of 42 minutes before it needs recharging. It can easily pick up dust and debris as well as working well with pet hair on all furnishings and floor types.
Quickly and easily transforms to a handheld, slim and portable, combined with combination tools (1 mini motorized tool, 2 crevice tools, 1 soft dusting brush), the P9 stick vacuum can easily clean in cars, corners, gaps, and other hard to reach places.
For a cheap alternative to a Dyson the Prosgenic P9 is well worth taking a look at. With a good battery life and a not too bad recharge time you would struggle to find a cheap model as good as this one.
Check Latest Prices On Amazon AU
Final Words
Hopefully, with the help of our buyers guide and our best stick vacuum cleaner Australia reviews you found what you was looking for. If you didn't then be sure to check out our Ultimate Best Vacuum Cleaner Buyers Guide which has all the best models from upright, barrel, handheld, robot and more stick vacuums.