If you are into camping or hiking then no doubt you are already aware of how important it is to own a good sleeping bag. A good sleeping bag will keep you nice and warm as well as comfortable. However, owning one of the best sleeping bags will ensure a good nights sleep even on the coldest of nights as well as offering ultimate comfort.
When choosing a sleeping bag there are few things to consider first, especially if you are to buy the right one for your needs. In this article we will be sharing all the information you need to know to help you make a better informed purchasing decision. Furthermore, we will be bringing you our top choices in our review section.
Best Sleeping Bags Australia – Buyers Guide
Before buying it is worth learning as much as you can about what makes a good sleeping bag. Taking the time to read our buying guide will introduce you to all aspects of sleeping bags and what it is you should be looking for when buying.
Different Types Of Sleeping Bags
Sleeping bags differ in many ways from size, comfort rating, season rating to different types of insulation. In total there are 3 different shapes of sleeping bag these are square, mummy and pod.
Square Sleeping Bags – These are the most basic type of sleeping bag and are among the cheapest ones available to buy. Generally speaking most models are synthetic and provide adequate comfort and warmth. One benefit that they offer is that they provide plenty of room to move around.
Mummy Sleeping Bags – This type of sleeping bag has a specific purpose and that is to keep you warm. Mummy sleeping bags narrow at the bottom which helps to trap warm air inside and close to your body. They typically cost more than square sleeping bags and are perfect for cold conditions.
Synthetic Or Down
Sleeping bags come with a choice of one of two fillings these are synthetic and down. The correct one for you depends on your needs.
Synthetic Sleeping Bags – this type is the most common and they range from cheap to expensive. They use a synthetic insulation which has a better resistance to moisture than down and are easier to clean. If you are looking to buy a cheap sleeping bag it will more than likely be a synthetic one as they tend to be a lot cheaper than down sleeping bags. With that been  said there are some very good synthetic choices, some of which we have included in our sleeping bag reviews.
Down Sleeping Bags
Down sleeping bags offer the ultimate in thermal efficiency and are well known for their effective insulation. Consequently, they are used mainly in 4 and 5 season sleeping bags. I would not recommend using one of these in the summer as you will be too hot to get a decent nights sleep.
Sleeping Bag Season Ratings
In the same way that tents have a season rating, sleeping bags are also ranked in the same way. Getting this right is crucial when buying.
1 Season Sleeping Bags – these tend to be lightweight, very compact and are best suited for the summer months. Using a 1 season sleeping bag in the cold winter months is not recommended.
2 Season Sleeping Bags – are designed to be warm enough from late spring to early autumn.
3 Season Sleeping Bags – for use in early spring to late autumn and you would probably get away with a mild winter night.
4 Season Sleeping Bags – usually have a down insulation and are perfect the winter months when the temperature can get very cold.
5 Season Sleeping Bags – one of these will keep you warm in the coldest of conditions. Sometimes referred to as expedition bags they are used by mountain climbers and hikers that are likely to encounter extreme weather.
Comfort Ratings
The comfort/temperature ratings are something that should be given serious consideration when buying. Before buying it is worth thinking about where and when you plan to use your sleeping bag and what weather conditions and temperatures you are likely to encounter. This will give you a good indication of what comfort rating you should be looking at.
Size
Sleeping bags can vary quite a lot in terms of their size. Square sleeping bags offer more room but aren't as efficient at keeping warm air in. On the other hand mummy sleeping bags are far better at retaining heat but offer limited foot and leg movement.
Weight
The weight of your chosen sleeping bag is definitely worth considering, especially if you intend to use it for hiking. Generally speaking a sleeping bag weigh anything between 1 Kg and 3 Kg. The best ultralight sleeping bags are the best option for hikers as they are extremely lightweight and warm.
Best Sleeping Bag Reviews
Now that you are prepared with all the information you need to know for when buying a sleeping bag, its time to take a look at what we consider to be the top rated models.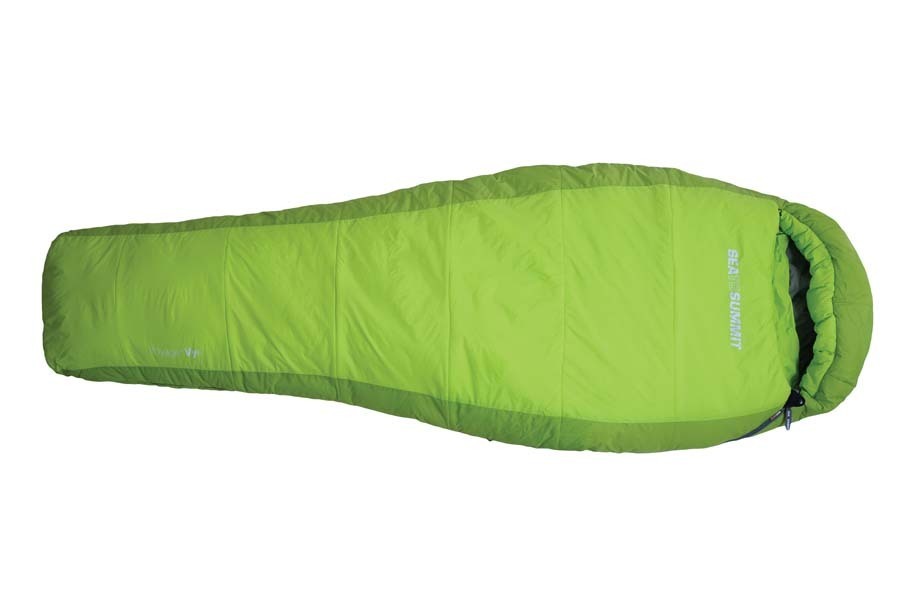 CHECK LATEST PRICES ON AMAZON AU & CUSTOMER REVIEWS
If you are looking to invest in one of the best quality sleeping bags that will last a while then you can't go wrong with a Sea To Summit sleeping bag. Sea To Summit are well known for their high-quality and have a very good reputation for consistently making some of the best sleeping bags for cold weather conditions.
The Sea To Summit Voyager Thermolite Insulation VY4 Sleeping Bag is a 4 season sleeping bag making it ideal for all year round use. With a temperature rating of -10 you can see why it is favoured among both campers and hikers alike. In addition the 1.7 Kg weight is another good reason to consider buying it as this is ultralight.
The Voyager relaxed mummy shape is cut with a larger hood, broader shoulders and a large chest to provide a more comfortable sleeping bag at the same time as retaining its thermal efficiency.
Another positive feature is the full length side and foot zip. This allows for conversion from a traditional winter mummy shaped bag to a duvet which is ideal for warm summer nights.
To sum up this is a very good model and it comes highly recommended for those who camp or hike all year round.
Darche Cold Mountain Sleeping Bag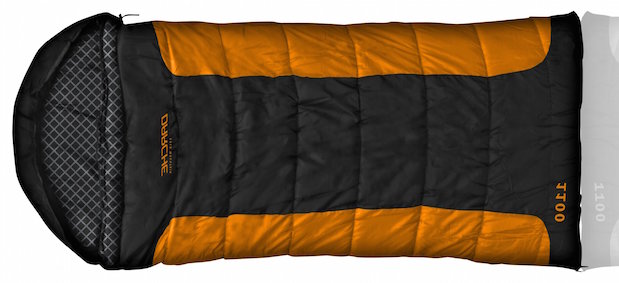 CHECK LATEST PRICES & CUSTOMER REVIEWS
The Darche Cold Mountain Sleeping Bag comes with excellent feedback from previous buyers and ranks high in many sleeping bag reviews. Compared to most other models available this is a very spacious sleeping bag that is ideal for the larger person or those who like a little extra room.
Due to it having a square design you may be thinking that it doesn't retain heat that good. However, with a temperature rating of -12 there is no need to worry there, out of all the models in our reviews the Darche Cold Mountain has the best comfort rating it will definitely keep you warm on the coldest of winter nights.
Weighing in at 3 Kg it is quite heavy, this is to be expected though as it is large in size. For those wondering how big the dimensions are 250cm x 114cm, very spacious. Due to the large weight, this is not the best sleeping bag for hiking by a long shot and Darche know this and that is why they market it at campers, fishermen and hunting enthusiasts.
If you want plenty of room and to be cosy and warm then the Darche Cold Mountain Sleeping Bag is definitely worth checking out.
Black Wolf Equinox 220 Sleeping Bag

CHECK LATEST PRICES & CUSTOMER REVIEWS
Black Wolf have been one of the most popular sleeping bag brands in Australia for a long time now. This is mainly due to their great quality products with affordable prices. The Black Wolf Equinox Series features 3 models with the Equinox 220 been the most affordable.
Featuring Black Wolf high performance Hyperloft 4T insulation (synthetic) and 2 x 110gsm (top), 1 x 150gsm (base) it offers adequate warmth down to -2 below zero. With a total weight of 1.5 Kg it is lightweight and suitable for hikers. In addition it comes with a lightweight compression sack, hidden security pocket and  a handy pillow slip pocket in the hood.
When it comes to choosing one of the best value sleeping bags you have to consider the Black Wolf brand and their full range. In terms of quality and functionality they have a lot to offer for those on a budget.
Vango Nitestar 450 Sleeping Bag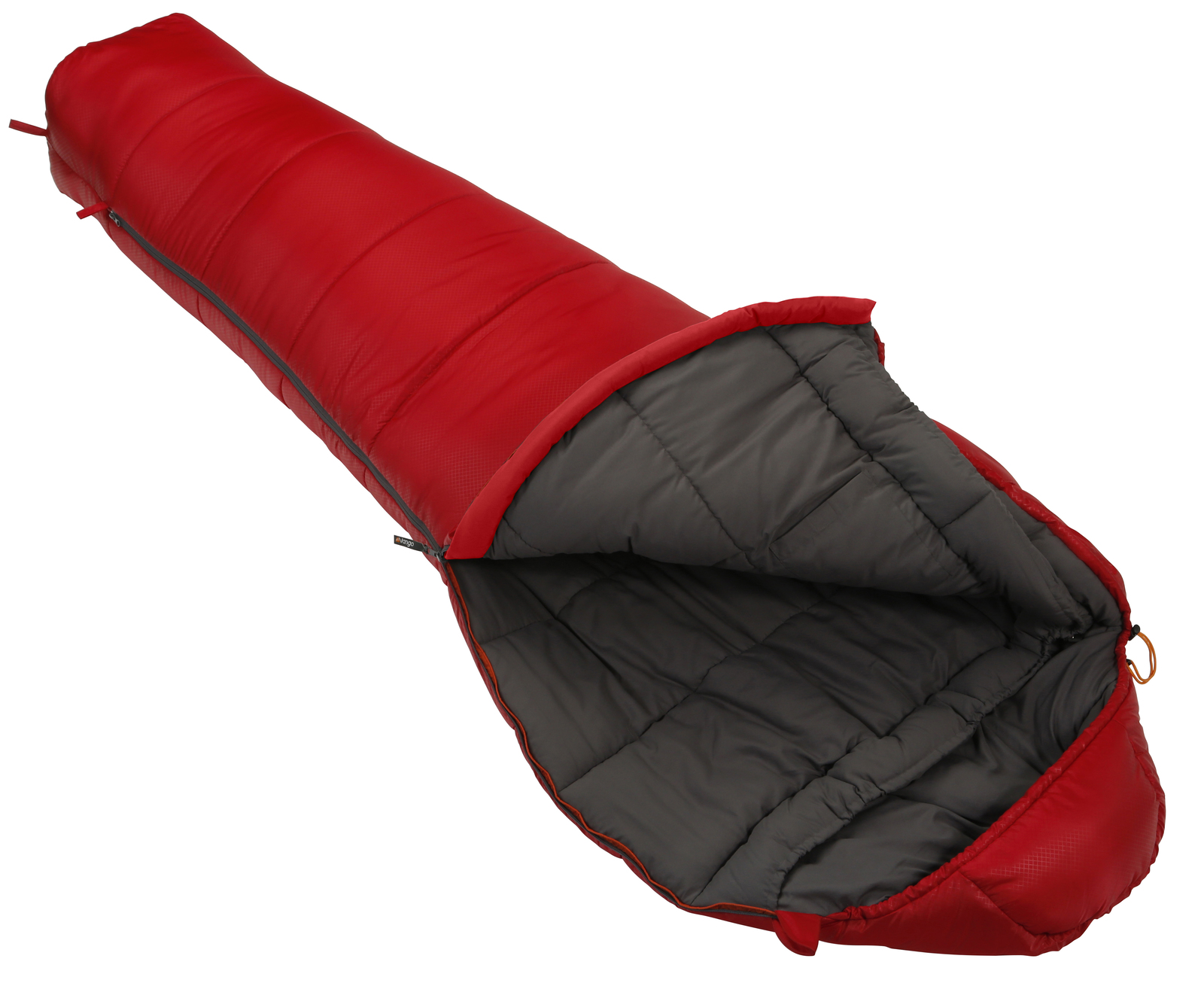 CHECK LATEST PRICES & CUSTOMER REVIEWS
The Nitestar by Vango is another very popular sleeping bag in Australia and with a good mix of quality and affordability it offers good value for money. It comes highly recommended for first time campers, festival goers, scouts, guides, youth and Duke of Edinburgh expeditioners. It is also one of the few sleeping bags that comes as recommended kit by the Duke of Edinburgh Awards.
With a comfort rating of -2 and minimum temperature usage of -8 it provides warmth for most conditions. It comes with double insulation for extra warmth and with a 4 season rating it is suitable for all year round use.
For a top quality brand this is a very affordable sleeping bag and another very good choice for those on a budget.
Final Words
There are a lot of factors to consider when buying a sleeping bag. Hopefully with the help of our buyers guide and reviews you have managed to find one suitable for both your needs and budget.
if you think we have missed anything out of our buyers guide or a model worthy of a place in our review section then please leave a message in the comments below.